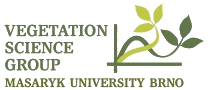 17th International Workshop "European Vegetation Survey"
Using phytosociological data to address ecological questions

Brno, Czech Republic, 1-5 May 2008
How to get to Brno?
Since December 2007 the Czech Republic is a part of the Schengen area. We advice participants who are not EU citizens to check whether they need visa to travel in the Schengen area. If you need a letter of invitation, ask Štěpánka via e-mail.
Brno can be conveniently reached by train from Germany, Austria, Slovenia, Hungary, Slovakia or Poland or by car using the highways from Prague (if you arrive from Germany) or Bratislava (if you travel from Slovakia or Hungary).
From more distant destinations, you may use flights to Prague, Vienna or Bratislava. There is also an airport in Brno, but with very few international flights (London every day, Barcelona every other day, Moscow every Sunday – see the timetable).
The transport from the airports:
by direct bus from Praha Ruzyně airport (Terminal Sever 1 or 2) to Brno
Timetable (for a detailed information in English please contact autobusy@studentagency.cz or call free line at (+420) 800 100 300)
by bus: use city bus 254 or 119 from the airport to Dejvicka (last station; the bus goes from 5am to 12pm every 20 minutes, 20 CZK ticket), change to underground line A, get off at Muzeum station, change to underground line C (direction Nádraží Holešovice) – get off at Florenc station. There is the main bus station (Autobusové nádraží) with many bus connections to Brno – we recommend yellow buses of Student Agency leaving from platform 0. The journey by bus from Prague to Brno takes 2:30 to 2:45 hours and the price is 200 CZK. If you take a taxi, always ask the driver about the price in advance, because Prague taxi drivers have a very bad reputation. Whenever possible, we advice to use city transport, which is fast and efficient.
Find bus connection Praha Florenc – Brno
by train: use city bus 254 or 119 from the airport to Dejvicka (last station; the bus goes from 5am to 12pm every 20 minutes, 20 CZK ticket), change to underground line A, get off at Muzeum station, change to underground line C (direction Nádraží Holešovice) – get off at Hlavní nádraží or Nádraží Holešovice station (both are railway stations with direct connections to Brno). The journey by train from Prague to Brno takes 2:20 to 3:40 hours and the price ranges from 250 to 400 CZK.
Find train connection Praha – Brno
Map of the Prague city transport
Airport taxi (from Praha/Ruzyne airport to bus station Florenc)
From Vienna Schwechat airport (Flughafen Wien)
by direct bus from Vienna airport to Brno
Timetable (for a detailed information in English please contact levnejizdenky@studentagency.cz)
by train from Vienna airport to Wien Südbahnhof (train station) (Vienna Airport Lines timetable) and from Wien Südbahnhof by train to Brno
Find train connection Wien Südbahnhof – Brno
by train: take city bus 61 from the airport (goes from 5am to 11pm every 20 minutes), direction Hlavná stanica, get off at Hlavná stanica (main railway station). Trains to Brno go almost every two hours and the journey takes about 1:30 hours. For booking tickets you need to change Slovak crowns (SKK).
Find train connection Bratislava – Brno
by bus: take city bus 61 from the airport (goes from 5am to 11pm every 20 minutes), direction Hlavná stanica, get off at Zimný stadion, change to bus 78, direction Petržalka, Muchovo námestie, get off at Mlynské Nivy (bus station). Buses to Brno go almost every hour. For booking tickets you need to change Slovak crowns (SKK).
Find bus connection Bratislava – Brno